A Real Beer Tour Through Britain -
Ales brewed by British Micros
I have not seen all of these places yet, but I have stayed in Britain for several times ... and I am sure to come over again and again!
Coming across the North Sea from Rotterdam Europort ...
... for having a good real beer tour across Britain (as opposed to the virtual one here) you may start at Kingston-upon Hull where the ferry arrives early in the morning. After not more than 50 miles you will be reaching the City of York.
Within the old citywalls there is The York Brewery Company Ltd at Micklegate, where guided tours are available. Some of the beerlabels are shown here. Spend the day or even two or three in the city as York has really much to offer. Meanwhile the York Brewery has opened two own pubs in the city centre.
On your way through the North York Moors you will reach the cliffs of Whitby on the East cost:
Dracula had landed in Whitby ... The logo and name for the Black Dog Brewery

were inspired by Bram Stoker, who, having spent time in Whitby/England on holiday, went on to write the most famous horror novel of all time, Dracula. Have a look at their current beerlabel. The beer today is bottled by Hambleton Ales/Thirsk.
The Durham Brewery is a micro-brewery located in the very north of England (about half an hour by car from Newcastle). If you are ever on a trip through Great Britain do not miss to stop by to enjoy a real microbrewed ale. Otherwise it is possible to order their bottle-conditioned beers online.

If you are thinking of to expand your trip via Scotland, it is a must to visit the Scotland's Craft Brewers Co-operative, Bridge of Allan Brewery, situated in Bridge of Allan (Stirlingshire), at Queens Lane. Read about the "THE SCOTTISH ALE TRAIL" and accommodation on their website.
On your way to discover Scotland you should not miss to see the Isle of Skye which is situated on the westcoast of the country. As I have been there personally I will give you some impressions of Skye. In the town Uig there is The Isle of Skye Brewing Company. Please have a look at their beerlabel.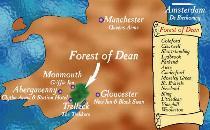 Back in England`s Northwest, not far from Gloucester, you will come into the Forest of Dean where the Freeminer Brewery is situated.